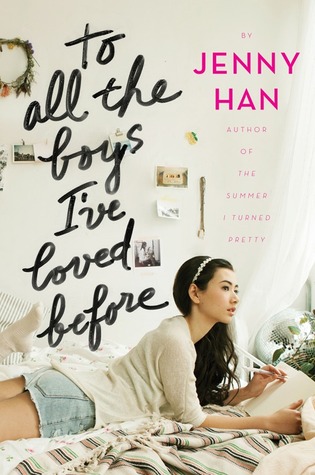 Title: To All the Boys I've Loved Before
Author: J

e

nny Han
Publisher: Simon & Schuster
Publication date: April 15, 2014
Pages: 355
Buy: Amazon | Fully Booked
Rating:

2.5

/5 stars
Lara Jean Song keeps her love letters in a hatbox her mother gave her. They aren't love letters that anyone else wrote for her; these are ones she's written. One for every boy she's ever loved—five in all. When she writes, she pours out her heart and soul and says all the things she would never say in real life, because her letters are for her eyes only. Until the day her secret letters are mailed, and suddenly, Lara Jean's love life goes from imaginary to out of control.
Love, love, love. Hate, hate, hate. I am full of mixed emotions toward this book. I'm frustrated while I'm floating on clouds. To All the Boys I've Loved Before is a clich
éd teenage romance novel that gave me cheesy-satisfaction and paper-crumpling frustration. It follows the "fake boyfriend" route, which is cute if you haven't encountered that a million times before. And we all know what happens in YA when people pretend to be together... which is why this book isn't entirely on my good side.
Lara Jean Song is a half-Korean girl in high school. She writes love letters to all the boys she's had a crush on -- as a way to get over those feelings and move on. But one day those letters get sent to her crushes and bam! What a way to add to the stress. Her older sister Margot just left for college, and without a mother figure in the house anymore, Lara Jean has to be strong for herself and for her little sister. What makes it more stressful for her is that one of those crushes is Josh, Margot's ex-boyfriend. Can you hear Angelina Jolie going, "What an awkward situation?"
Spoilers ahead! As I said, it follows the "fake boyfriend" route. When Lara Jean and Josh talk about the letter, Lara Jean goes ahead and tells him that she's dating someone. To support her claim, she runs up to Peter, the vain guy she also wrote a letter to, and kisses him. This scene really confused me about Lara Jean -- like girl, how did you suddenly get that much confidence to run up to a guy and make out with him?
This is because at the start of the book, Lara Jean appears as this high school kid, but when I "read her" she seemed more childish than most kids her age. This childish impression of her stuck with me, and seeing that quick change in her caught me off guard. Character growth, maybe. But I don't think that the incident of her letters being sent is enough to make her change that quickly.
Moving on from that kiss... I wasn't completely interested in the story until her letters were sent. I do understand that the chapters before that are there to set the rhythm of the story, to give us an overview of the characters and their relationships, but it was boring to me. Partly because I wasn't feeling the character of Lara Jean. However, those chapters were essential to introduce the role of Margot. This novel's heart not only includes young love, but also the love of family, and Margot embodied that message fully.
And about that love triangle -- this is the part that frustrates me. First, the "fake boyfriend" route. Of course they're going to fall in love with each other. That's already like a recipe in YA. Second, I don't think that the Peter and Gen (Peter's ex and Lara Jean's ex-BFF) situation was fully resolved. Is Gen genuinely okay with Peter and Lara Jean? Third, I feel like Josh and Lara Jean never had full closure. Spoiler: Josh did admit his feelings for her with a kiss. Even when Margot returns home, he still shows his affection for Lara Jean, but that's cut off too quickly. I don't think Josh can just say, "Oh well, she likes Peter more than me. I'm cool with that." I'm sure there's pain in there, somewhere.
Finally, the writing. I wasn't impressed with the writing in The Summer I Turned Pretty, but I decided to give this book a chance because its cover is gorgeous, and it has diversity (yay, diversity!). I'm going to say this novel's writing suits the tone. It's about a high schooler who writes love letters to her crushes. It's not supposed to have a dark tone. The light and carefree tone that it has is perfect. So yes, great job, Jenny Han.
Lots of food detail, though. This book made me hungry.
If you like stories about teenagers falling in love, read this. If you're into "fake boyfriend" stuff, this is perfect for you. But if you'd rather stay away from cliches and delve into something more emotional, then maybe you should stay away from this book... Oh, and also: if you don't like books with no endings (like endings that make you scream, "WHAT? THAT'S IT? WHAT HAPPENS NEXT?"), endings that are cruel and heart-wrenching, find something else.
2.5/5 stars because it's definitely a cute and light read, perfect for happy, sunny days.