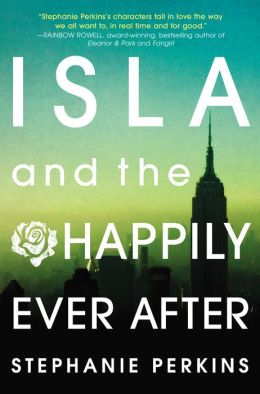 Title: Isla and the Happily Ever After
Author: Stephanie Perkins
Publisher: Dutton
Publication date: August 14, 2014
Pages: 352
Buy:
Amazon
Note: Sneak peek was provided by the publisher in exchange for an honest review.
From the glittering streets of Manhattan to the moonlit rooftops of Paris, falling in love is easy for hopeless dreamer Isla and introspective artist Josh. But as they begin their senior year in France, Isla and Josh are quickly forced to confront the heartbreaking reality that happily-ever-afters aren't always forever.

Their romantic journey is skillfully intertwined with those of beloved couples Anna and Étienne and Lola and Cricket, whose paths are destined to collide in a sweeping finale certain to please fans old and new. - Goodreads
If you've read Anna and the French Kiss and/or Lola and the Boy Next Door, you already know how Stephanie Perkins can quickly make you fall in love with her writing, her characters, and her perfectly fairytale-like stories.

Isla and the Happily Ever After provides the same cuteness that Perkins' other books have given readers. The characters are as lovable and fun to read. Isla seizes the role of the normal girl with a huge crush on a mysterious guy. I loved getting inside her "fangirly" brain. She sounds so much like how teens would react to their crush -- with Ohmygodohmygods and all that. Josh, her love interest, is mysterious. His reserved personality comes off as alluring, which, I think, is a good change. Kurt, Isla's best friend, is someone I haven't "explored" fully yet. But from the sneak peek, I feel like he's a necessary sidekick for Isla. I hope he isn't just there to make the story move forward. I want him to be as significant as the other characters.

This will undoubtedly make readers scream and cry and giggle, as Perkins' books have done in the past. The start of the book is perfect. It will grab hold of you and make sure you never let go -- and trust me, you won't want to let go. Again, the author's writing deserves an A+.

The preview chapters transported me back to the "cheesy" world that Stephanie Perkins brought me to in Anna and the French Kiss. The grace in how her words are connected clearly displays the love that surrounds her characters. From this sneak peek, I can tell that this will be another great read. I simply cannot wait to get my hands on this book.